The One: The Most Expensive Mega-Mansion in The World ($500 million)
We've been looking forward to the official unveiling of Nial Niami's "The One" for years and it's finally here, but it hasn't been plain sailing and it's still not 100% finished.
'The One', located in Bel-Air, Los Angeles, is the brainchild of Nile Niami, who is an American ex-movie producer who now spends his time building mega-mansions with hefty price tags. The One is an ambitious project that has been pitched as one of the most ambitious, and expensive residential projects in recent times and it's now close to completion, well kind of…
The start, the finances and the present
The project started way back in 2013 and there have been tons of hoops to jump through and difficulties along the way, from planning and construction to financial problems, but it seems it's now closer than ever. According to the LA Times, the lender for the project has served Niami with a notice of default on The One, which is considered the first step in the foreclosure process. If Niami can't repay the loan in 90 days, Hankey (the lender) could force a sale of the home.
It seems like the lender is itching for this 8 year-old project to finally get on the market and start making returns on the whopping $110 million investment to build the house.
This luxury mega-mansion is a whopping 105,000 square feet with literally no expense spared, as you can imagine, with the amount of money it has cost to build. Michael Blakey just released a YouTube tour of the home and there are still quite a lot of visibly incomplete areas of the property, and thee areas don't look like minor amends. Elements in the home that still looked unfinished such as staff quarters alongside a fully serviced tennis court and bar area that still looked like a construction site.
I think $500 million for this house is super ambitious and I don't think Niami will bring a sale close to this figure. He's had a history with over-valued property with one of his previous houses valued at $100 million, only managing $38.3 million when sold.
Edit 2022: This house, due to bankruptcy proceedings will now face auction starting from Feb. 7-10. They looks set to be looking for a sale of around $295 Million.
A Magnificent Real Estate Achievement
Either way, this is a masterpiece by Niami and I love everything to do with this house. I don't think it's a homely home, but it is a magnificent achievement in residential architecture and it's one of the most impressive homes I've seen! It's got a ton of unique, bespoke, and extremely luxurious features and amongst its 20+ bedrooms and 40+ bathrooms we've listed some of our favorite elements below:
The Luxury Building and Architecture
Just look at it, it's magnificent! It's huge and in some ways overwhelming. If this was a luxury hotel, it wouldn't be out of place. Situated on top of Bel Air, The One sits nobly overlooking LA with pure panoramic views of Los Angeles. This home is a statement, and for whomever purchases this home, for the price, you would really want it to be. There's no-one you could bring to this home, who wouldn't be taken back by this building, it truly carries the gradios status.
Cigar Room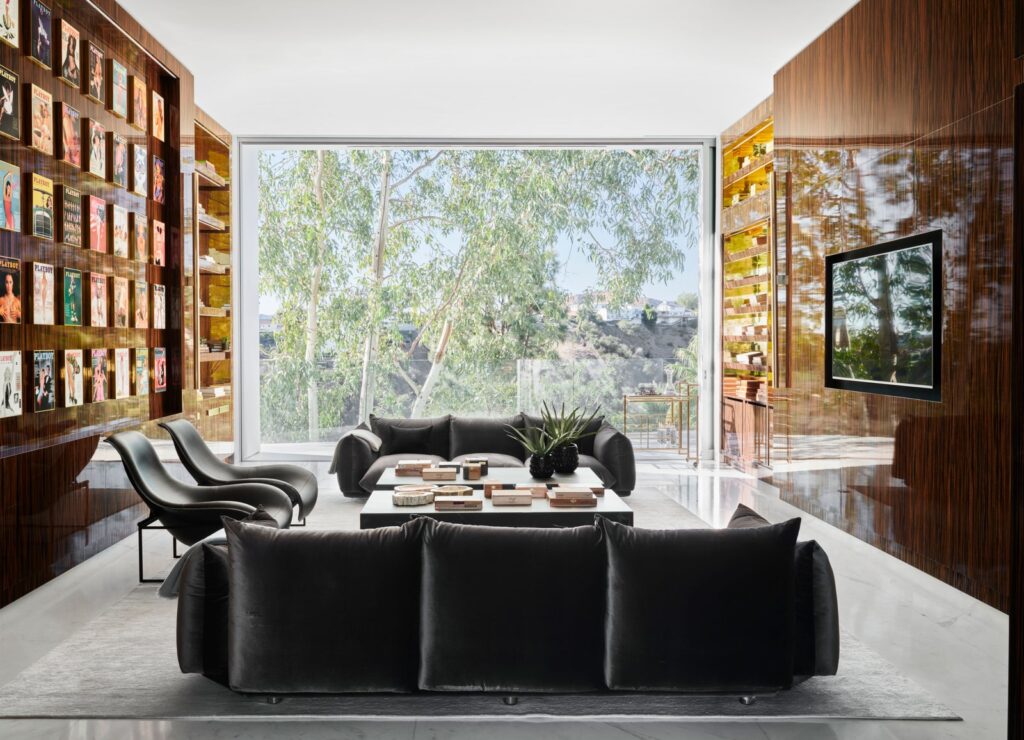 A cigar room, yep, a fully stocked cigar room. On the ground floor, is a stunning, open-plan cigar room, with custom air filtration, a stacked wall of vintage playboy mags, and luxury furniture, I'd love to smoke a fat Cuban in this room. What do you think about it?
Fitness Suite with Juice Bar
Not just a 70ft indoor pool (one of 5 pools on the property), but a full fitness suite. This includes a full Spa and Beauty Salon at one side of the property with access via the long indoor pool (with a fantastic mirrored ceiling) to a fully stocked indoor, professional quality gym and yes, a juice bar, not your typical juice bar, it's the size of a commercial juice bar of course. There's literally no need to leave the house!
Did I mention there's also a running track that spans around the house? Well… there's a running track that spans around the house…
Beauty Salon and Nail Bar
Of course, no luxury home is complete without a beauty salon. Yes, a fully equipped beauty salon with full hairdressing facilities alongside a nail bar and massage parlor. Every inch of this salon, like the rest of the one, is finished in red and gold to the highest standard.
You would never have to leave this "resort"!
Want to learn more?
If you'd like a deeper view at this mega structure, then you can check out Producer Michael's video in which he meets with Niami who takes him on an exclusive first look at the finished building, including a tour of all the rooms above, plus more, including the fully equipped nightclub. Check out the video below: