Elmbridge: The UK's Beverly Hills & The Most Luxury Houses on the Market
If asked about the most famous place for luxury property, you think of Beverly Hills right? Home to the rich and famous. When you think about the most impressive luxury houses in the UK, you think of Central London with oligarchs, Saudi royalty, footballers (soccer players for our US readers)and basement conversions?
Well, there's a little unknown place which has been dubbed the Beverly Hills of the UK on the outskirts of London. This place is Elmbridge, Surrey.
Located South West of Greater London, Elmbridge is home to the UK's biggest earners and stars hosting residency to stars. From Mick Jagger to Kate Winslet and sports stars like Gary Lineker and Peter Crouch the average income in Elmbridge is the UK's highest with an average income per person of £73,600 ($100,000). This means the average amount of tax paid per person is £20,500 ($28,000).
Elmbridge has over double the UK's average income. All this extra money means there's some of the biggest, most luxurious property in the UK. In this article, I'm going to showcase some of the biggest luxury houses on the market in Elmbridge to showcase exactly why they hold up to their adopted namesake.
Why is Elmbridge so attractive?
Elmbridge is the home of the UK's wealthy, but why? Firstly, it's in a prime location in Greater London. It is located 40 minutes from Central London, which makes it a prime location for commuting, shopping and dining in Central London. It is also 25 minutes drive from Surrey Hills Area of Outstanding Natural Beauty, which is one of the nationally protected landscapes in England. It's also notoriously safe with one of the lowest crime rates in the UK.
For those who need an airport, Elmbridge is 25 minutes from Heathrow Airport which is the largest airport in the UK, busiest in Europe with a flight to and from almost every country on earth. No wonder Elmbridge is popular for jet setters!
Not only the location but there is also a ton of fantastic restaurants and boutique shops to indulge in!
Here are some of the best luxury houses on the market and if you'd like to read about the biggest house in the real Beverly Hills then take a look at our article on "The One".
Shandon, Cavendish Road, St George's Hill – £14,500,000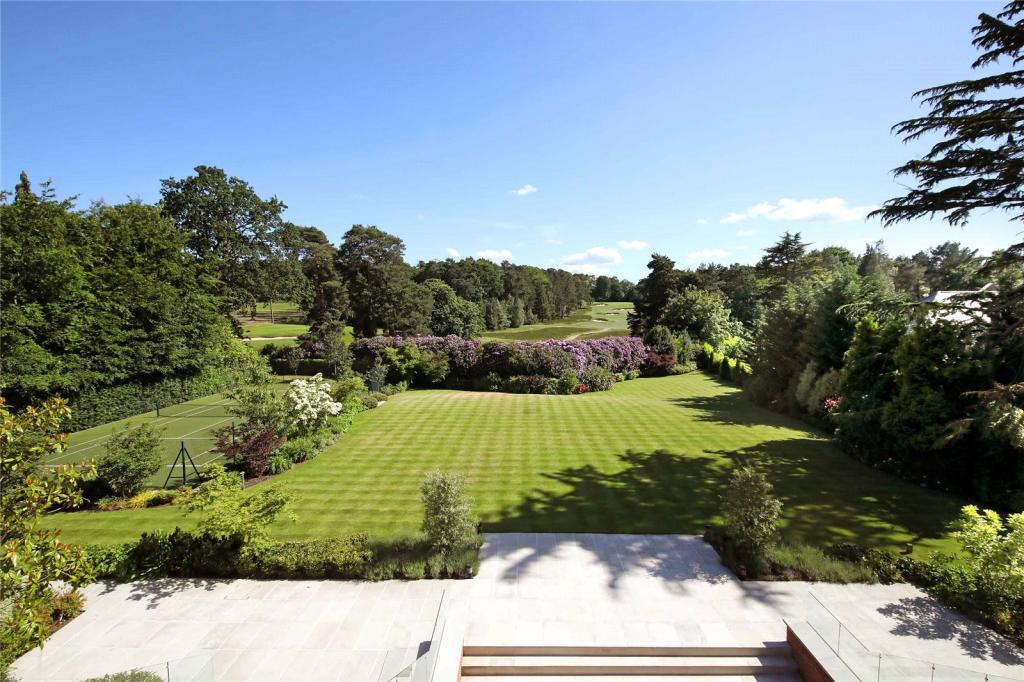 To kick this one-off, we're going to explore the luxurious Shandon property located in the sought-after neighbourhood of St Georges Hill.
This property is privately gated and guarded by 24/7 security. St Georges is a private estate that features access to a private championship golf course, alongside a tennis and squash club. Here are some of the features of this wonderful estate!
6 generously sized bedrooms
Championship golf course views
Indoor pool and spa
Cinema and bar
Staff annexe and sleeping quarters
1.5 acres of land
You can check out the property on Rightmove. If you're looking to buy, make sure you tell them that richlifestyle.co sent you – we'd be happy for the commission.
Camp End Road, St George's Hill, Surrey – £12,000,000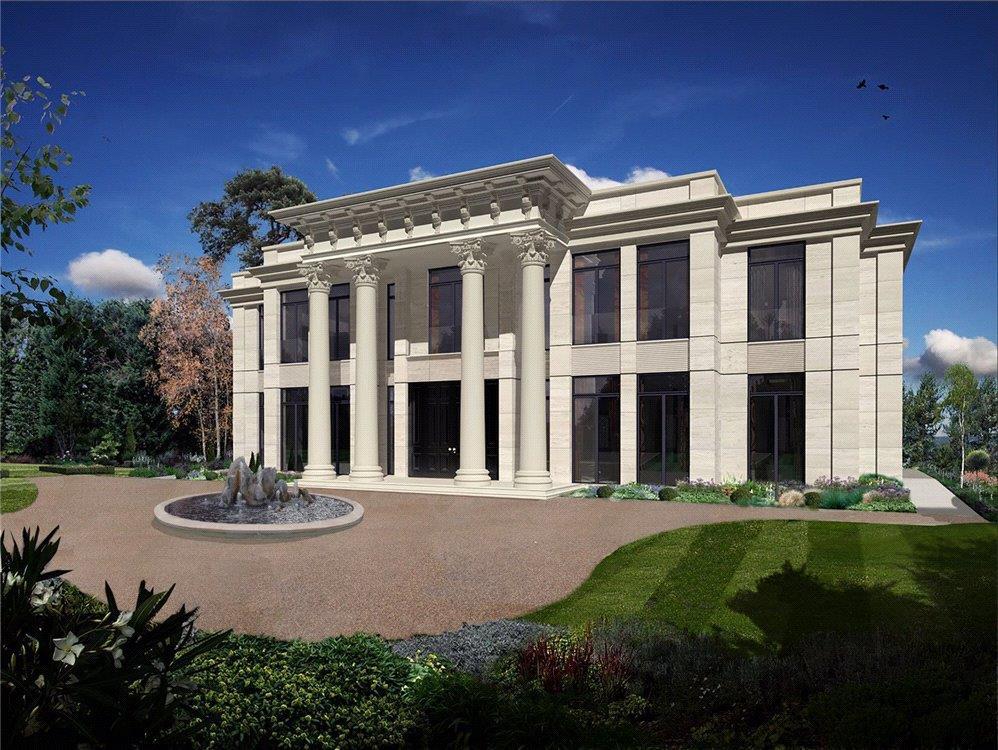 This Portuguese limestone house is a one-off build on a 1.6 acre plot and a brand new development done to the highest spec. Again, this property is part of the St George's Hill neighbourhood so is super exclusive.
Here's what you get:
Brand new 27000 sqft home
Stunning walk in wardrobes
7 bedrooms and 5 bathrooms
Roman spa and swimming pool
Perfect for hosting and events
Stunning gardens
You can check out the property on Rightmove.
East Road, St George's Hill, Surrey – £9,250,000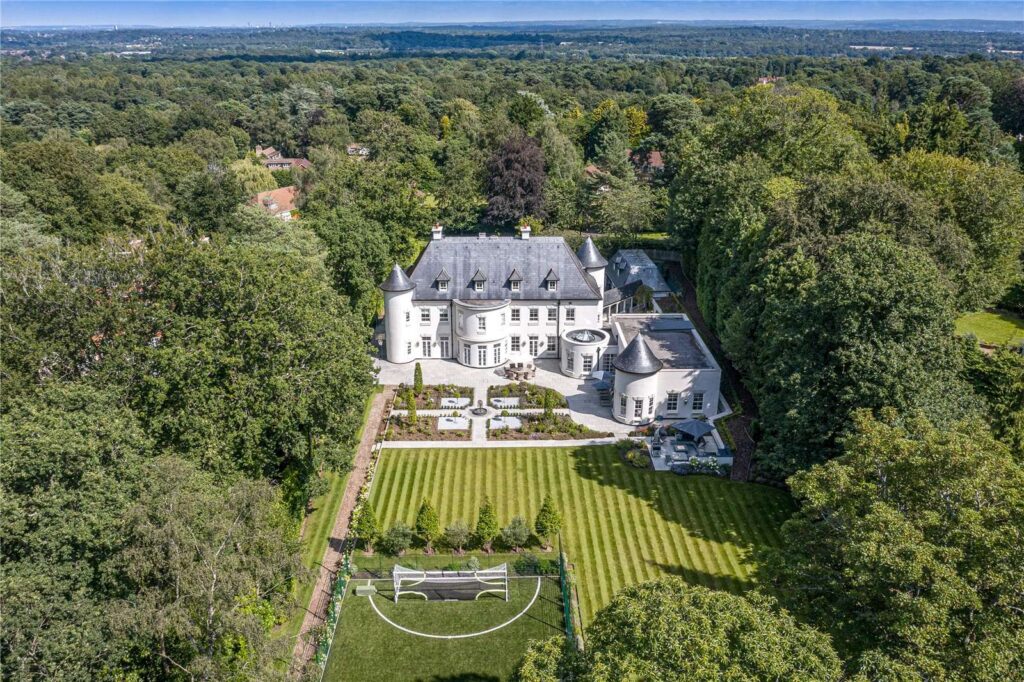 Another property in this collection in the St George's Hill neighbourhood, as you can tell, it's a super affluent area of Elmbridge. This stunning château' style property has been expertly architected and designed with the highest quality finish and detail. With a private pool, astroturf football pitch and an outdoor kitchen and fire pit, this property is one of my favourites on the list (primarily because of the football pitch).
Here's are some features:
6 bedrooms and 6 bathrooms
Stunning 1.3 acres of landscaped gardens
A luxury indoor pool complex
Cinema and snooker room
3G astroturf football picth
Designer interiors, from wallpaper to kitchen worktops
Blackhills, Esher, Surrey – Price on Application
This property, once owned by one of Europe's leading Royal families, was built in the '90s and boasts an impressive 16,000 sq ft, four-story layout. Features include a swimming pool, flowing landscaped gardens with a pond, and spacious living spaces. This house needs a little work on its interior but is a blank canvas with tons of top-spec features and a host of potential. Some other features include:
6 en-suite bedrooms and 5 bathrooms
Stunning 2.3 acres plot with stunning gardens
Underground parking for 4 vehicles
Detached staff annexe
Indoor Swimming pool and gym
Gated private road
You can also check out the property on Rightmove.
Spicers Field, Leatherhead, Surrey – £3,750,000
On a half-acre plot, behind private electric gates, sits this property, which is on the lower end of the price range compared to some of the other properties on this list. It has a classical architectural style and it is set on the Crown Estate. It's a picturesque detached mansion with a spacious, flowing landscaped garden. It could probably do with some internal refurb and re-decoration, but this house is huge and has some great potential:
5 bedrooms, 4 bathrooms and 5 living areas
The stunning landscaped half-acre plot
Room for extensions to the roof and rear
Close to an impressive selection of schools in the area
Gated private property
Ready for someone to re-fit to their taste
You can also check out the property on Savills.
Fancy a luxury property in Elmbridge?
If you're looking for luxury houses in Elmbridge, then there are a few places to go, check out Savills and Rightmove above. Property prices are expensive anywhere you look in Elmbridge, but as discussed, for good reason. Famous for its closeness to luxury amenities, transport links and some of the best schools and restaurants in the country, Elmbridge will always be top of the list for the rich and famous.
Hope you enjoyed it!