[Updated] Most Impressive Luxury Notebooks for 2023
I've always been a bit of a geek for good quality stationery and luxury notebooks, starting from writing utensils such as pens and pencils. You can't beat a good quality fountain or ballpoint pen. For someone like me, who writes daily and often, having the best equipment to hand is crucial. It's like having a decent pair of hiking boots if you love trekking.
I've always concentrated on having the best quality pens and neglected the importance of a good quality notebook and I've been a bit of a snob for a luxury notebook ever since. I'm still on the hunt for the perfect one. In this article. In this article, I will highlight the top luxury notebooks I've tried over the years.
But first, what should you look for when purchasing luxury notebooks?
To start with the look and feel of your notebook are key. You don't want to be attending a meeting, putting a notebook on the table that looks half-eaten! You want something that looks sleek and professional.
Secondly, the quality of the paper is vital to a good luxury notebook. Writing in your notebook with a variety of pens, highlighters and colours is an everyday occurrence and you need thick, high-quality paper to ensure your notes are readable and long-lasting. I've used cheap notebooks and journals before, and when you can see your pen through the back of the pages and imprinted on the new pages, it completely ruins your notes and notebook aesthetic.
Notebook extras are also crucial when choosing a luxury notebook. Things to look out for include multiple bookmarks, strong and sturdy folders, optional paper types (dot, line, grid), and an everlasting elastic pen holder. These things may not seem important, but as you start to use your notebook, it's super handy if these things are strong and high-quality.
Our Favourite Luxury Notebooks (5 of them)
Here are seven of my favourite luxury notebooks and the brands behind them:
Dingbats* Notebooks – Pro B5
I'm a massive fan of what the team at dingbats provide. I've had one of their notebooks every year for over 5 years now and they're one of my go-to brands. If anyone asks me for a notebook recommendation, they'll also be one of the first I mention. There are a couple of reasons for this:
Their luxury notebooks are super high quality.
They look fantastic with their faux leather covers.
Come in a range of sizes and all have high-quality features.
Produced in a green factory with recyclable and Vegan Certified materials.
Revenues go towards wildlife sustainability!
They start at £15.00 (around $20.00). You can check it out on Amazon here.
Aspinal of London – A5 Refillable Journal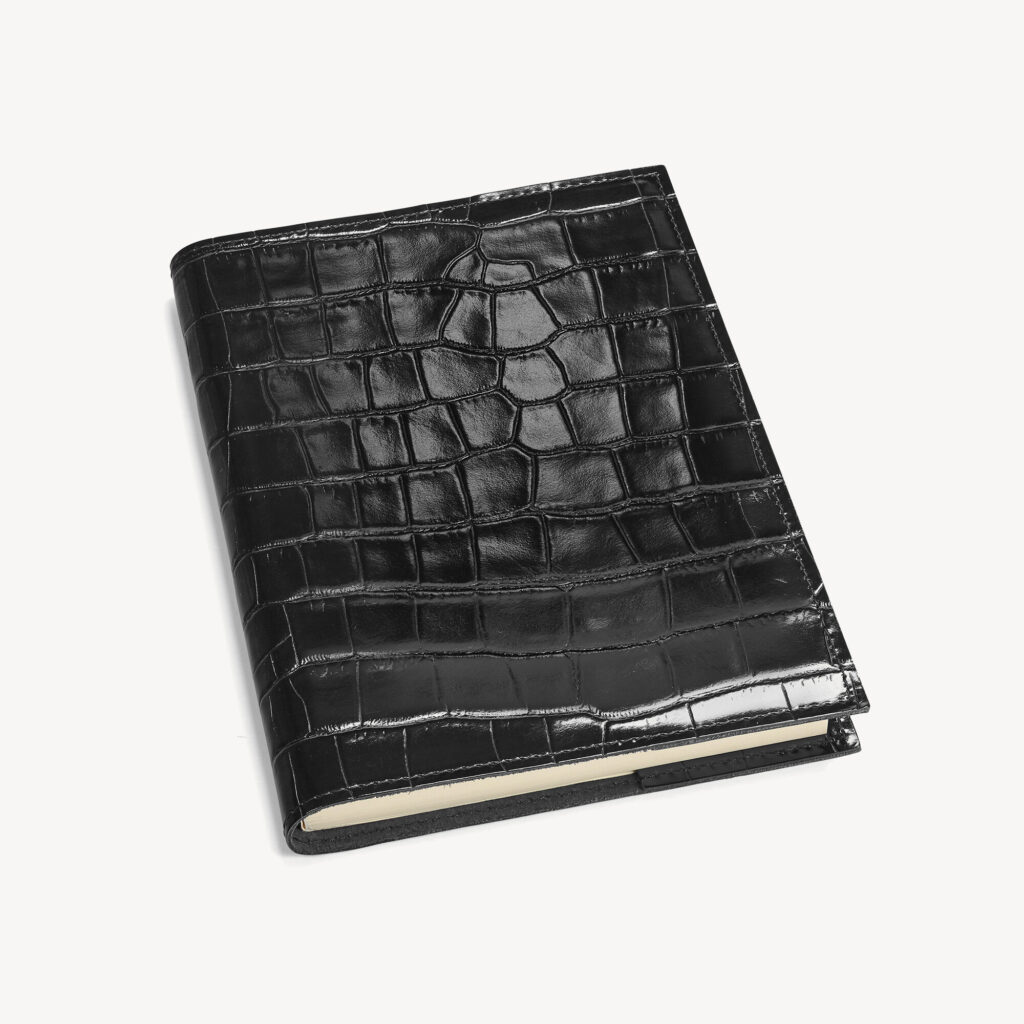 Founded in 2001, Aspinal of London is a luxury lifestyle brand that makes some excellent quality items, and notebooks happen to be one of them. These notebooks are refillable and super stylishly handmade in England. A regular conversation starter in meetings; I've referred a ton of people to their website.
Luxurious to look at and write in.
Refillable and therefore reusable.
Handcrafted in England by craftsmen.
Full-grain, sustainable leather.
Option for personalisation (initials and messages)
A little more expensive, these notebooks start at £85.00 (around $115.00). You can check it out on the Aspinal of London website here.
Smythson of Bond Street – Soho Notebook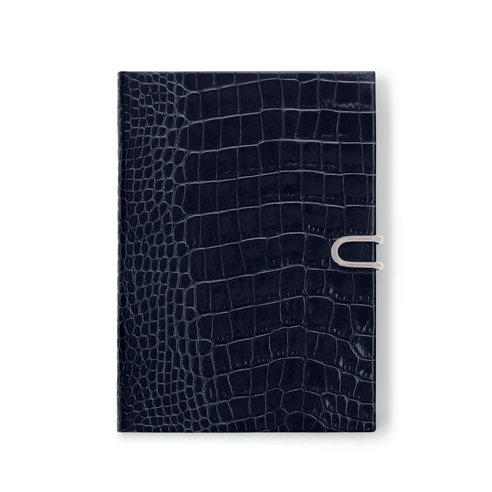 Smythson is a brand famous for its luxury stationary and exceptional quality. Their notebooks have been the choice of the rich and famous for over 100 years and their Soho Notebook has made the list. It has excellent details and finishes that make it a standout luxury option for note-taking and journaling.
Luxurious to look at and write in.
Genuine embossed calf leather
More than standard pages on watermarked featherweight paper
Silk lined notebook
Unique light gold sliding clip
These are still quite pricey at £155.00 (around $210.00) but well worth it for a high-quality notebook. You can check it out on the Smythson Website here.
Cartier – Diabolo De Cartier
This one is a little more of a status piece. If you popped this out in a meeting, or even if it took centre place on a shelf. It's super unique and comes in a set of three! Here are some of its features:
A unique look that will not be matched!
Genuine calf leather
Paper sourced from sustainable forests
Comes in a set of three
These are still quite pricey at £290.00 (around $392.00) but it is a statement piece. If you're looking to get a conversation started, then this notebook's the one. You can check it out on the Cartier Website here.
Montblanc – Notebook #146
Montblanc is famous for its luxury pens and other writing utensils. Alongside their pens, they also have a ton of excellent, top-quality notebooks, journals, wedding planners and much more. Notebook #146 is one of their top-end notebooks with a unique aesthetic.
Part of the Meisterstück Le Petit Prince collection
Made from brown shearling and includes a brown silk bookmark
Watermarked, gold-edged silk paper
Unique faux-fur-lined covers
You can get yourself this Montblanc notebook for £235.00 (around $319.00) but it is also a statement piece. You're not going to bump into anyone with this notebook! You can check it out on the Montblanc Website here.
Honourable Notebook Mentions
Now, expensiveness doesn't always equal quality! Look at the Dingbats notebook above, starting from £15.00 ($20.00), and it's one of my primary go-to, day-to-day notebooks.
Here are a few notebooks that won't make you wince. These honourable mentions are sturdy, reliable and good-quality writing companions.
Moleskine – Classic Collection
Moleskine are one of the leading brands when it comes to notebooks! If you look around your office, I can bet there's a good collection of Moleskine's around. These notebooks look great, and the writing experience is superb and often outperforms the super-expensive notebooks.
You can pick up this classic on Amazon for around £10.00 ($15.00).
Rocketbook – Core Collection
Rocketbook took over from Everlast and they have a great product with over 2000 5-star reviews on Amazon. This notebook feels like your classic notebook, with an excellent writing experience, but endlessly reusable. This notebook is made for the digital age and links up with an app that stores your notes digitally and then wipes clean!
You can pick up this classic on Amazon for around £29.00 ($38.00).
LEUCHTTURM1917 – Medium Notebook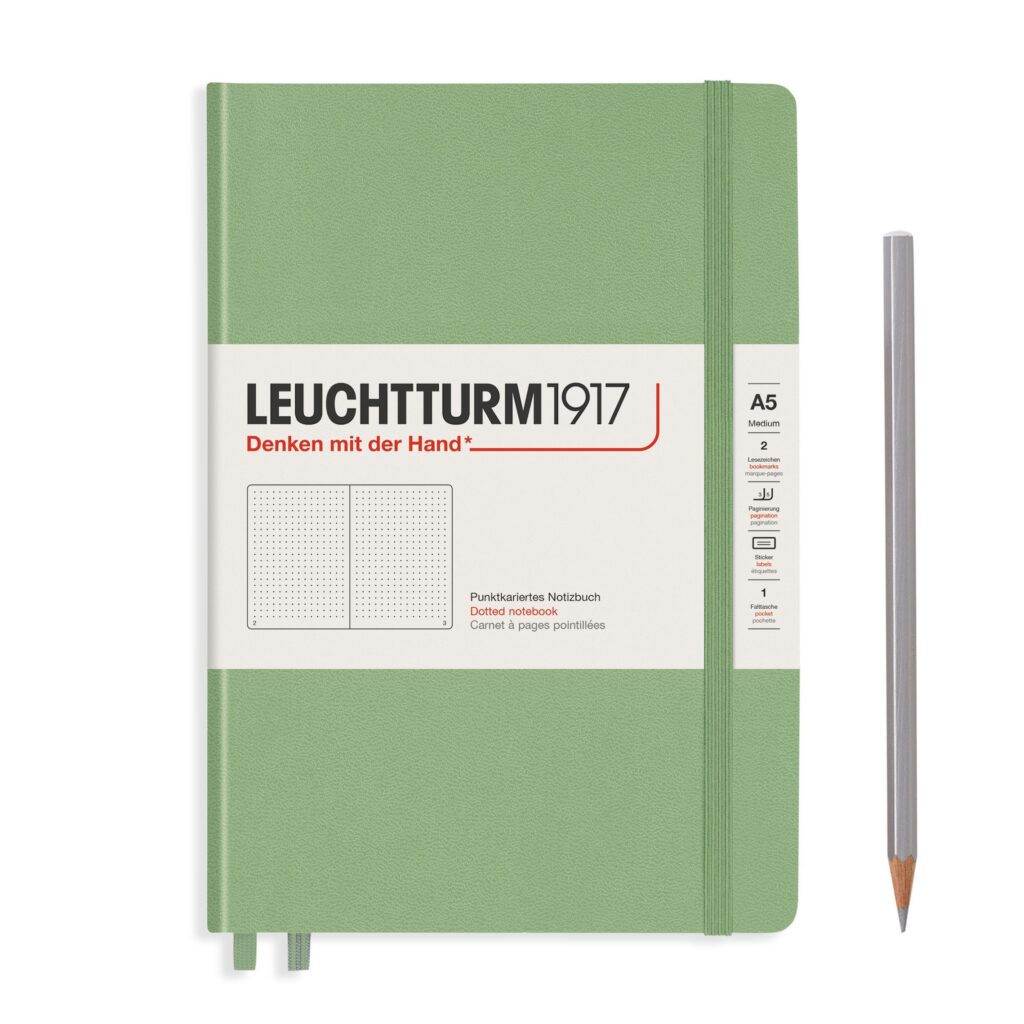 LEUCHTTURM1917 notebooks are super popular and for good reason! This notebook has over 500 5-star reviews on Google, and its customers rave about the quality of their product. They're a German, family-run company and have built quality notebooks for over 100 years.
You can pick up these German-made notebooks on Amazon for around £18.00 ($25.00).
PAPIER – The Secret Garden Notebook
PAPIER is relatively new to the game after being founded in 2015. They've been developing unique stationery for note-taking and journaling. They're on a journey to be sustainable using recyclable packaging and sustainably sourced paper alongside focusing on made-to-order products to reduce waste.
You can pick up a secret garden notebook on their website for around £24.00 ($32.00).
Stalogy – Editor's Series 365 Day Notebook
This Japanese brand has been developing stationery to the highest standards for many years. This notebook has all of the essentials to plan your day/week and year embossed on the pages, making it perfect for bullet journalling and traditional note-taking.
Fancy a new Stalogy notebook? You can find them on Amazon for around £23.00 ($30.00)
What do you think about these notebooks?
I hope you enjoyed this article, be sure to let me know what your favourite notebook is! If you're a luxury note-taker, let me know if you'd consider one of these high-end books.
If you enjoyed this article and are interested in other luxury items, check out the top things that every luxury home needs!